Best Free Video Editing Software for PC
This article will guide you to learn about the 4 best free video editing software for PCs to create awesome, professional and shareable videos with ease without watermark. Our 4 hand-picked free video editing pieces of software are easy-to-use and better than the top paid and award-winning video editing software in many respects.
Other than this, beginner video creators can unleash their creativity in the world by creating stunning video content without shelling out a buck with the help of these free video editing software. The best part about these free video editors is that they come with some built-in powerful features you need like audio editing, filtering, transition effects and much more.
For your sake, I have compiled a list of the best free video editing programs for desktops keeping in mind the different needs of different users.
Best Free Video Editing Software for PC in 2021
If we talk about mobile video editing apps, they have fewer options and features than desktop video editing software. All of these free video editing software are a good option for rookie to advanced level users to create irresistible content to share across various social media platforms such as Facebook, Twitter, Instagram, YouTube, Reddit and more of the same.
Here is the complete list of the best free video editing software:
1. OpenShot
2. Shotcut
3. Kdenlive
4. Lightworks
Best Video Editor Software for Starters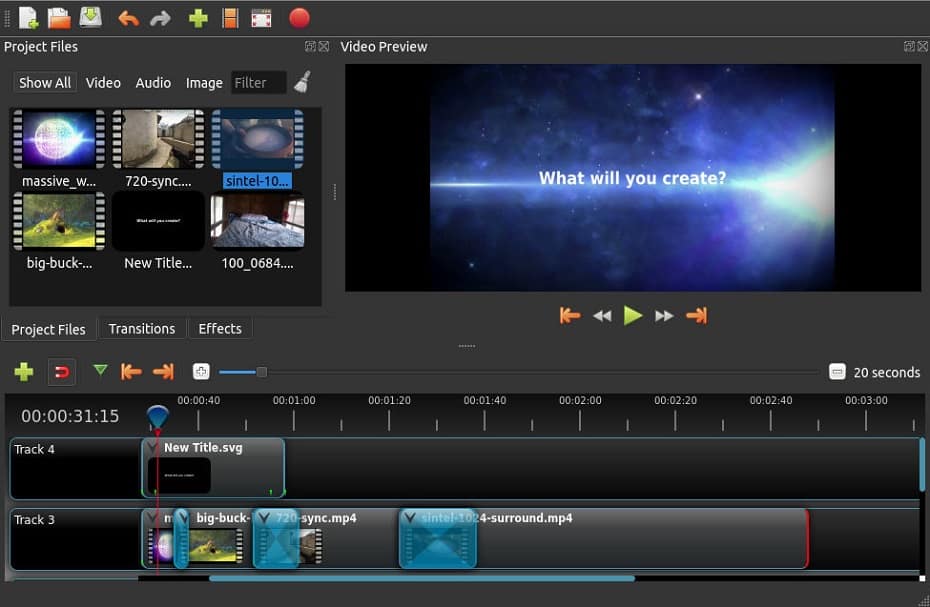 OpenShot is an award-winning open source video editing software known for its user-friendly interface, features and capabilities. This free video editor caters to audio mixing, drag and drop, unlimited layers, transitions and watermark features.
It typically supports Linux, Mac and Windows operating systems. OpenShot works on a powerful FFmpeg library that means it can read and write a wide range of video and image formats. In addition, OpenShot has many great built-in audio editing features, such as splitting and adjusting each audio channel individually.
Key Features:
Free and open-source.
Supports unlimited layers.
Audio mixing and editing.
Best for beginners.
Platforms: Linux, Mac, and Windows
[
Back to Top ↑
]
Best Free and Open Source Video Editor for Simple Editing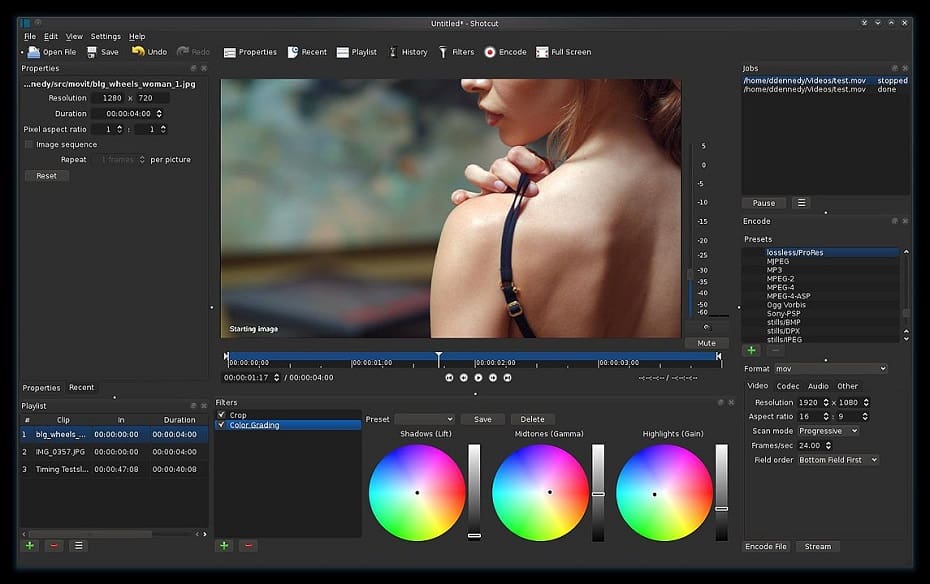 Just like OpenShot, Shotcut is another free, open source, cross-platform video editing software for Windows, Mac and Linux operating systems. Users can use this free video editor for up to 4k resolution video editing. Plus, it has a variety of editing tools including audio mixing, audio filters, video transitions, and other video editing tools.
Aside from this, it supports the latest video and audio formats that highlight its striking functionality. Shotcut can be the perfect video editor for budding content creators. It has great features and tutorial videos to make your video editing experience better and easier. In the final analysis, Openshot has everything you can expect from a good free video editor software.
Key Features:
Open source and free.
Cross-platform.
It supports up to 4k resolutions.
Lots of audio and video effects.
Native timeline editing.
Codec independent.
Platforms: Linux, Mac, and Windows
[
Back to Top ↑
]
Best Free and Powerful Video Editor for Sophisticated Users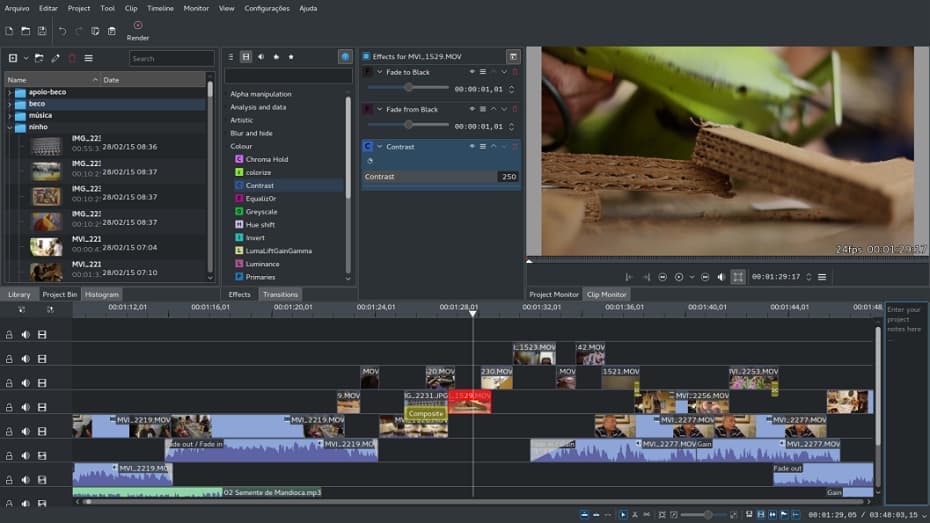 Kdenlive is reliably one of the best free and open-source video editor software with lots of very powerful editing tools. It is a non-linear video editor based on the MLT framework, which relies on many other open source projects like FFmpeg, movit, ladspa and sox.
This video editing tool is developed by the KDE team. Its open-source nature means that there are no annoying ads, watermarks or paid upgrades. Besides that, it is available for major platforms like Windows, Linux and Mac OSX.
Kdenlive allows you to add effects, transitions and render videos into the format of your choice. According to some sources, it offers best results on Linux operating system, and it is not as easy as OpenShot and Shotcut video editor. Lastly, it depends on how you get the most out of it.
Key Features:
Free and open source.
Multi-track video editing.
Configurable interface.
Automatic backup.
Timeline preview.
Built-in dark and light theme.
Dozens of audio and video effects.
Platforms: Linux, Mac, and Windows
[
Back to Top ↑
]
Best Free Video Editor for Advanced Editing

Lightwors is a free and powerful video editor competing with top paid video editing software including Sony Vegas, Final Cut Pro and Adobe Premier Pro. It is the best free option to create professional-level video content without splashing any cash.
Additionally, there are tons of built-in excellent editing tools, effects and transitions to make your video editing task super easy. It also supports most of the video and audio formats. The free version allows you to export 720p quality videos without watermarks. Despite being freeware, Lightworks has all the needed tools.
Key Features:
Free.
Drag and drop feature.
Simple and easy-to-use interface.
Real-time effects.
Platforms: Linux, Mac, and Windows
[
Back to Top ↑
]
So it was all about the best free video editing software for PC, if you still have questions about it, please drop your queries in the comment box.
If you enjoyed this article, I would be grateful if you would help share it with friends and family members or share it on Facebook, Twitter, WhatsApp.
To watch our tech videos, please subscribe to our YouTube Channel: Yashraj Solutions
Also Read:
3 Best Offline Messaging Apps to Chat in 2021
NewPipe The Best YouTube Alternative
How to create a bootable pendrive on mobile