How to turn on dark mode on Facebook app
This article will guide you to learn about the process to enable dark mode on Facebook app. Dark mode is a very new type of user interface, and has become a hot topic among users in the era of social media. Dark mode is already available on the Facebook desktop version (web). This article will help you in enabling dark mode on the official Facebook app with easy steps.
As everyone knows, all popular social media apps such as Twitter, Reddit, Quora, WhatsApp, Instagram, Telegram, Signal, Snapchat and more of the same have already rolled out the dark mode user interface for their users.
Finally, the world's most famous social media company Facebook is publicly releasing its dark mode for Android users which was in the beta version and available only to a few selected beta tester users.
The newly added dark mode feature for Android and iOS is quite impressive. Other than this, the dark mode feature also helps to prolong the battery life of your smartphone compared to the flat white background and provides a distraction-free look that's easy on eyes in a low-light environment.
Related Post: How to Enable Dark Mode on Facebook Web
If you are one of those who uses the Facebook app in low-light environments and want to cut down on glare through the app's most requested features then keep reading it all the through.
In this tech article, we will walk you through some simple steps to enable dark mode on the Facebook app.
Here's how to enable dark mode on the Facebook app:
Step-1 You must have the latest version of Facebook installed on your device.
Step-2 After installing the latest version of the Facebook app, open it.
Step-3 Next, in the Facebook app, tap the hamburger menu located in the top right corner.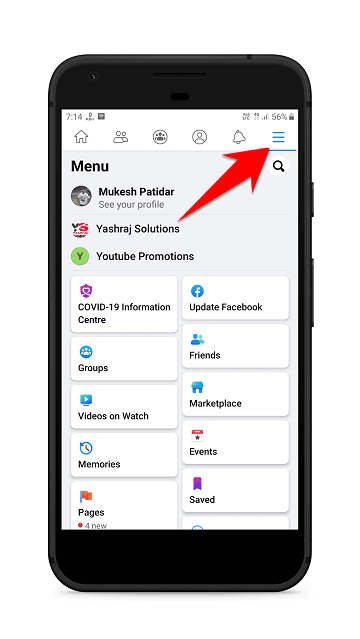 Step-4 Now, just scroll down a bit and select "Settings & Privacy" options.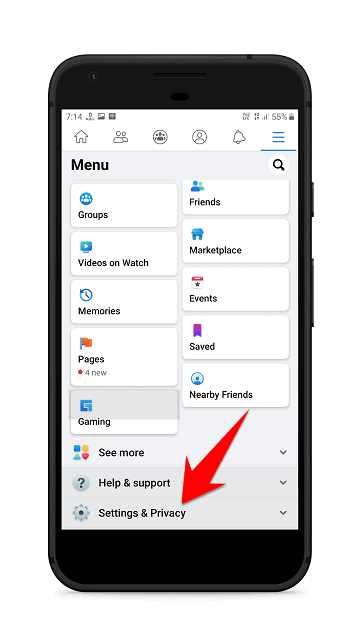 Step-5 Later, in the expanded menu, you will find the "Dark mode" option and tap it.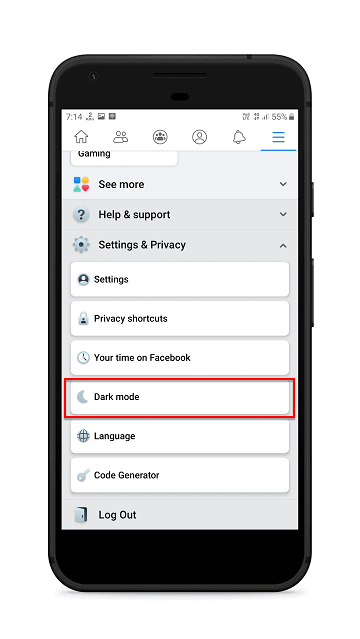 Step-6 Finally, select the "On" option to enable dark mode on the Facebook app.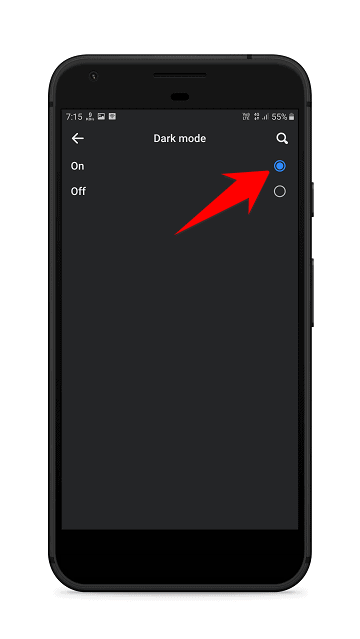 Voilà! You're done!
Once you've enabled the dark mode option, your Facebook app background will appear dark instead of white.
So this was all about how to turn on dark mode on the Facebook app. If you still have any questions regarding this, please drop your queries in the comments section below.
If you enjoyed this post, I'd be very grateful if you'd help to spread it to your friends and family members or share it on Facebook, Twitter, WhatsApp, LinkedIn and Instagram.
To watch our tech videos, please subscribe to our YouTube Channel: Yashraj Solutions
Also Read:
How to disable ads on Realme Phone
How to enable Secret Chat in Telegram