Chrome for Android gets a built-in screenshot tool
Google Chrome for Android has received a built-in screenshot and editor tool on Chrome's 91 built version. The new feature now makes it easier to take screenshots of any web page without using hard keys on your smartphone such as the power button, the home button or the volume down as well as the menu button.
This feature will definitely be handy if your device lacks any built-in screenshot capture tool like Gesture Screenshot – It allows capture the screen by dragging your finger from the corner of your phone to the centre, Motion screenshot – With this feature you can take a screenshot by shaking your Android device to trigger the screenshot command, Floating Button – It lets you take the screenshot of the web pages by pressing an overlay button, Palm Swipe – This feature allows you can take screenshot by swiping palm from the left side of your screen to the right side of your screen in just the matter of a second.
How to take a screenshot of a web page using Chrome's screenshot tool?
Chrome's new screenshot capturing tool is not directly accessible, and it will be accessed in the "Sharing menu" which appears at the bottom of the screen. When you try to share any web page through Chrome's "Settings menu" or from the browser's address bar, then the bottom sheet slides up with three rows. The last row has actions like Screenshot, Copy link, send to your devices, QR code, and the last action is Print.
Related Post: Desktop Chrome Is Getting an Inbuilt Screenshots Tool and Editor
You can easily take screenshots of the web page through Chrome's built-in screenshot tool by tapping on the Screenshot action from the Sharing menu at the bottom. Android Chrome users can also use editor tools like crop, text or draw.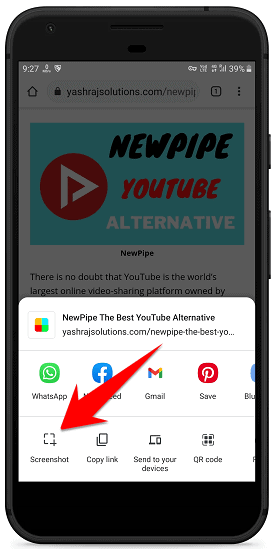 With the help of these editor tools, you can crop the image, add text or draw anything on the screenshot. The crop tool allows you to crop unwanted parts of the web page and the text tool allows you to add text to the image among other features such as copying text, zooming-in or zooming-out of text, drag and drop as well as delete. The drawing tool will help you to doodle in 18 different colours with six stroke sizes. On the other hand, the undo and redo feature is also available through this tool.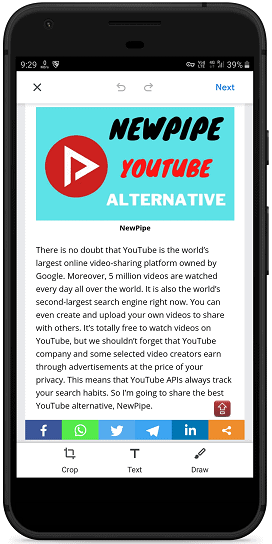 Once you're done, tap on the "Next" button in the top-right corner, and finally you'll be presented with the Share this screenshot, Save to device only and Delete options. You can now share the screenshot through any social media platform or save it on your device locally. If you don't want to use this screenshot, then you can delete it using the Delete option.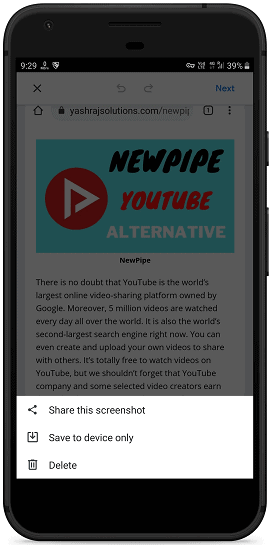 So this was all about Chrome's new built-in screenshot tool, if you still have any questions regarding this, please drop your queries in the comment's section below.
If you enjoyed this post, I'd be very grateful if you'd help to spread it to your friends and family members or share it on Facebook, Twitter, WhatsApp, LinkedIn and Instagram.
To watch our tech videos, please subscribe to our YouTube Channel: Yashraj Solutions
Also Read:
How to Enable Two-Page View Side by Side for PDF in Google Chrome
Chrome 90 is now getting killer features