WhatsApp Gains Advanced Search Mode
Psst! WhatsApp offers tons of new features for both Android and iOS platforms. The Facebook-owned company is constantly updating its platform to offer a better and improved experience to its users. But not all features are visible in front of your eyes and some of them are hidden in the deepest part too.
Only a few days ago, WhatsApp incorporated dark mode, deleted messages, QR code, search the web, multi-device support, contact shortcuts, group video calls, animated stickers and the like. WhatsApp has now rolled out an advanced search mode for both Android and iOS platforms for its beta testers.
The advanced search mode as the name suggests, the new feature lets you search at the advanced level. The advanced search mode is nothing else but an improved form of the previous search feature. With the old search feature, you could only search for tickets, addresses or other important messages in chats, but with the advent of the advanced search mode, you're able to search for photos, videos, links, GIFs, audio as well as documents in the chat history section.
Related Post: WhatsApp will soon allow you to link your secondary smartphone
This new search mode allows filtering the search with photos, videos, documents, links for making your search a little bit faster and convenient. You can also see Whatsapp's advanced search mode in the image below.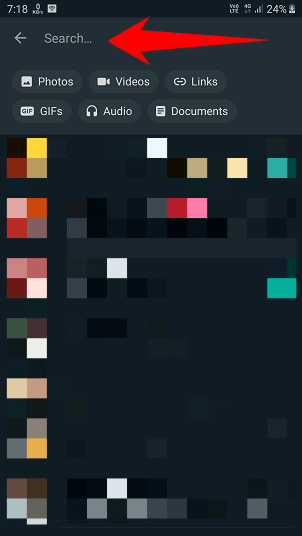 Notably, as of now, WhatsApp's advanced search mode feature is still in the pipeline and not available to all users. The advanced search mode is not yet available to the public, only a few beta testers are getting it. In order to get the advanced search mode feature, users should have WhatsApp's 2.20.197.1 or higher version.
Here's how WhatsApp's advanced search mode works:
1. Open WhatsApp on your device.
2. Now tap on the search icon on the top bar.
3. Start off the search.
4. Now type the keyword you are looking for.
5. Finally, WhatsApp will show results from chat history including photos, videos, links, GIFs, Audio and documents as well.
As previously explained, the advanced search mode is partially rolled out for certain beta testers. If you haven't received it yet, please wait for the next beta update or alternatively you can download it from the third-party site APKMirror.
So this was all about how WhatsApp advanced search mode works, still if you have any doubts you can drop your queries below in the comment box.
If you enjoyed this post, I'd be very grateful if you'd help to spread it to your friends and family members or share it on Facebook, Twitter, WhatsApp, LinkedIn and Instagram.
To watch our tech videos, please subscribe to our YouTube Channel: Yashraj Solutions
Also Read:
How to Mute WhatsApp Chats Permanently
How to Enable Dark Mode On WhatsApp Web