How to Skip YouTube Ads Automatically
It is true that YouTube is the world's largest video platform and almost 5 billion videos are watched on YouTube every single day. YouTube also became an integral part of our life to watch videos on various topics. Nowadays, it has become a nuisance for viewers to skip ads on the YouTube app. This youtube ad skipper app lets you skip YouTube ads automatically.
But we shouldn't forget that advertisers have also fascinated themselves towards YouTube to find potential customers to grow their business by placing ads of various types. These ads are a great source of revenue for YouTube, owned by Google.
Related Post: NewPipe The Best YouTube Alternative
Now it is common to see lots of ads on this platform causing annoyance to us. We have to skip ads manually while watching videos on YouTube. To skip YouTube ads is very frustrating.
I have come up with a solution to this problem. There is an app on the Google Play Store that will prove to be a panacea for this headache.
These are instructions to skip ads on YouTube automatically.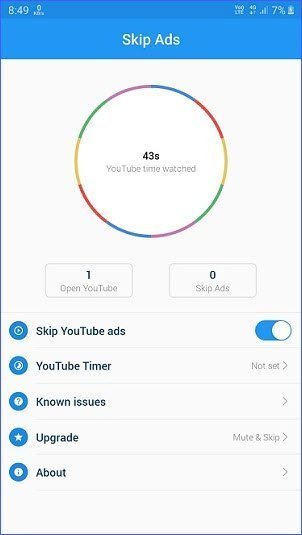 Simply fire up the Play Store on your device.

Search for the Skip Ads app on the Play Store.

Install it on your device and grant permission for accessibility.

Open the Skip Ads app and toggle on Skip YouTube ads.

Set it up and forget to skip ads.
So this was all about how to skip ads automatically on YouTube, if you still have any questions related to this, please drop your queries in the comment section below.
If you enjoyed this post, I'd be very grateful if you'd help to spread it to your friends and family members or share it on Facebook, Twitter, WhatsApp, LinkedIn and Instagram.
To watch our tech videos, please subscribe to our YouTube Channel: Yashraj Solutions
Also Read:
How to Play YouTube Music in Background
What I Got After Opening 100 Tabs in Chrome Browser on Android