WhatsApp Reactions Feature is Rolling out for Everyone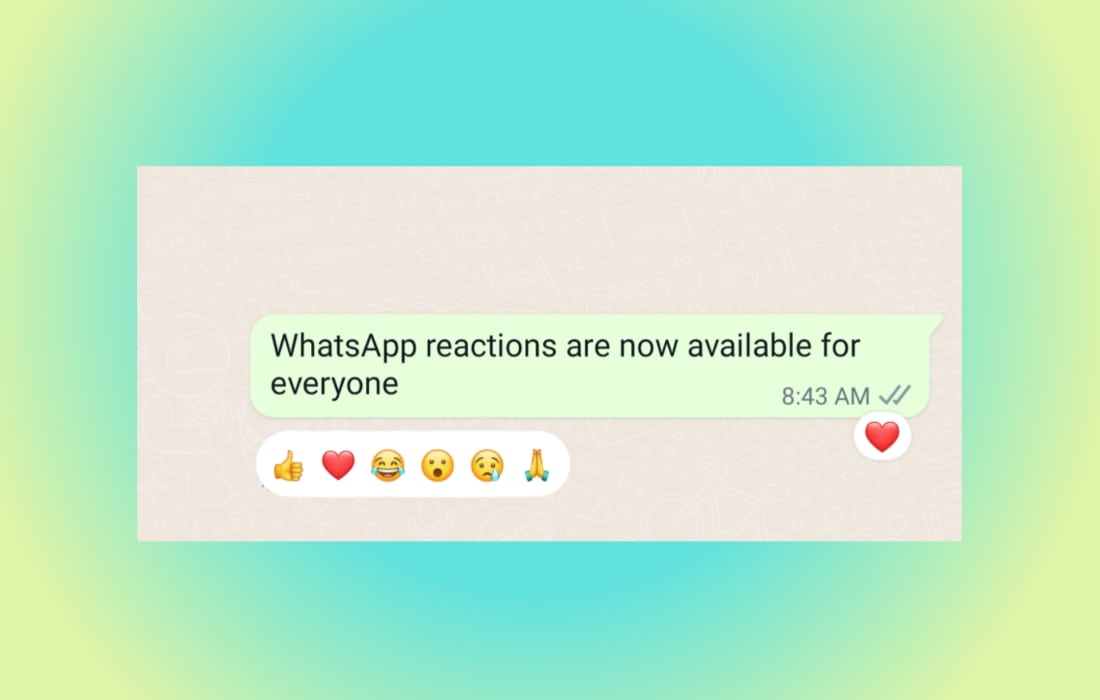 After months of testing, it seems that the WhatsApp emoji reactions feature is now rolling out for all its Android, iOS, Web and Desktop users across the globe. Previously this feature was available to quite-a-few WhatsApp beta tester users to determine whether it works flawlessly or not.
Today, more people are starting to get emoji reactions functionality, and it may take up to seven days for everyone to receive the feature in the latest stable version of WhatsApp. In addition, the emoji reactions feature does not require installing the beta version.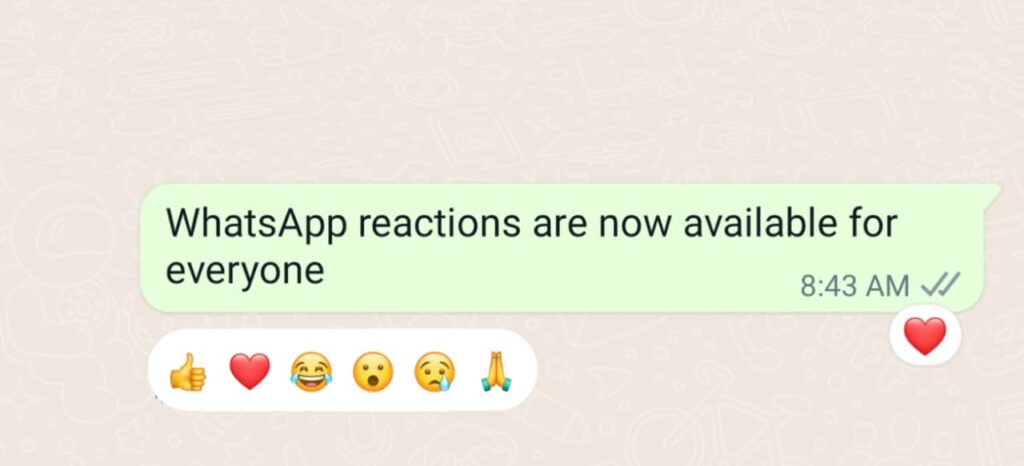 The Emoji Reaction Feature enables you to react instantly to messages in personal and group chats with emojis – Like (thumbs up), Love (red heart), Laugh (face with tears of joy), Surprise (face with open mouth), Sad (crying face) and Thanks (Folded Hands). At the moment, there are only six emojis in this feature. In subsequent updates, you will be provided with all other emoji options.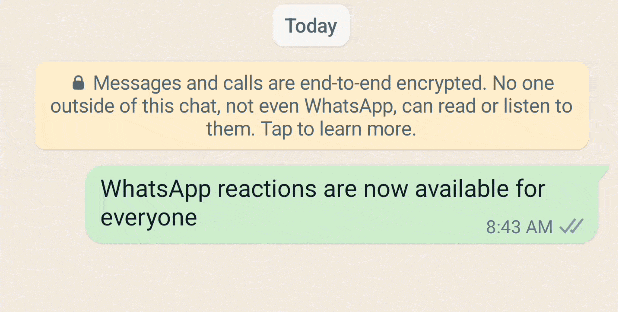 Emoji Reactions on WhatsApp – How to Use them?
To use the emoji reactions feature on WhatsApp, you need to install the latest stable version of WhatsApp from the Google Play Store. For this, we have provided a link at the end of this post to install the latest version of the app.
Step 1: First off, open the WhatsApp chat in which you wish to use emoji reactions in.
Step 2: Now press and hold (long press) the message bubble.
Step 3: Next, a pop-up will appear with six emojis.
Step 4: Once the pop-up opens, tap and select one of the six emojis to react to the message you received.
Step 5: Finally, you will see the emoji reaction right under the message.
You can even change the emoji in the reacted message with the emoji reactions feature. To do this, you need to long press the reacted message, then select another emoji by tapping on it.
Not only that, you have the option to remove the emoji reaction from the message. The first step involves long pressing the message that you've already reacted to, and the second step involves tapping the emoji you reacted with to remove it. Alternatively, you can also tap the emoji under the reacted message and then select the "Tap to remove" option from the pop-up window.
So this was all about the WhatsApp emoji reactions feature, still if you have any doubts you can drop your queries below in the comment box.
If you enjoyed this post, I'd be very grateful if you'd help to spread it to your friends and family members or share it on Facebook, Twitter, WhatsApp, LinkedIn and Instagram.
To watch our tech videos, please subscribe to our YouTube Channel: Yashraj Solutions
Also Read:
WhatsApp is rolling out a new archive feature
WhatsApp will soon allow you to link your secondary smartphone