What I Got After Opening 100 Tabs in Chrome Browser on Android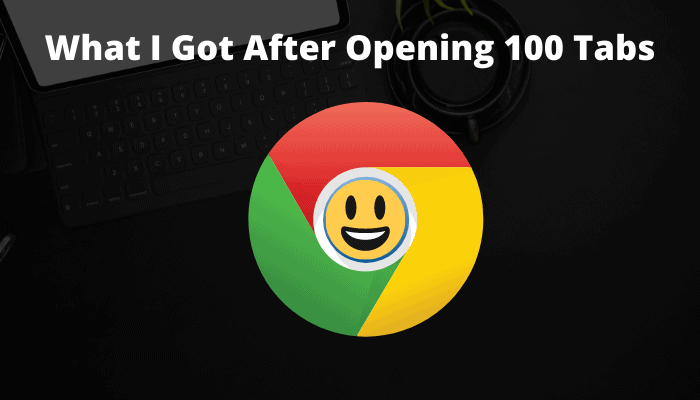 Google Chrome is the world's fastest, sleekest and most popular browser with a user-friendly interface. Moreover, it is built on a chromium open-source project, which is secure against all types of online threats as well as packed with a variety of new handy features.
Apart from these, Google is also well-known for its treasure trove of hidden Easter egg features such as Askew, Flip a Coin, Roll a Dice, Spinner, Thanos, Google Sky, Tic Tac Toe, Google Gravity, Do a Barrel Roll, Snake, Recursion, Zerg Rush, T-Rex and so on. All these Easter eggs are a source of great fun whenever you get bored while working online.
Related Post: How to enable Chrome's Hidden Windows 11 Menu Style
So today, I'm going to share a hidden Easter egg that is not known to most of us. It is buried in the deepest part of Android's Google Chrome.
For a long time, I had forgotten to close most of the tabs in chrome browser on Android and I found that there was a smiley face rather than the normal tabs counts. I delved into chrome browser's settings to figure out what causes it, but I couldn't reach any conclusion of this issue.
Why does this happen?
Finally, I made a search in this regard on google and found that Google developers didn't provide a feature which can display 3 characters in the tabs count in a small-sized box.
The most likely reason behind it is that the more open tabs hog the more memory, so it displays a smiley face instead of three characters in the same sized box, and it is not designed to have more than two characters. Whenever you open up to 100 or more tabs in Google Chrome on Android, a smiley face icon will be displayed instead of the tabs count.
Whatever is the reason behind it, it is full of fun and is a huge matter of curiosity to me.
So this was all about what I got after opening 100 tabs in chrome browser on android still, if you have any doubts you can drop your queries below in the comment box.
If you enjoyed this post, I'd be very grateful if you'd help to spread it to your friends and family members or share it on Facebook, Twitter, WhatsApp, LinkedIn and Instagram.
To watch our tech videos, please subscribe to our YouTube Channel: Yashraj Solutions
Also Read:
How to use built-in-ad blocker in Google Chrome
What is caret browsing and how to turn on or off in Mozilla Firefox?