How to get new Gmail features before others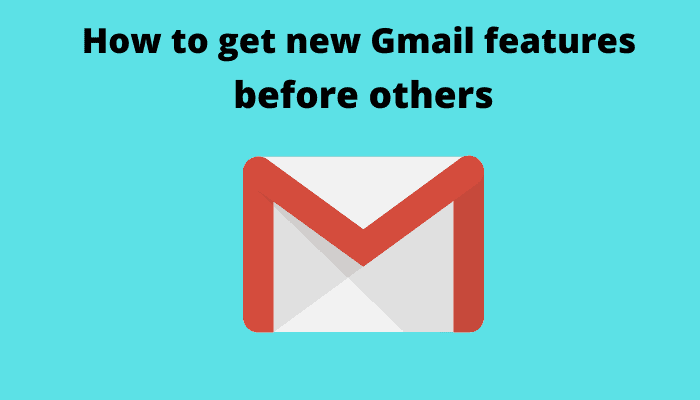 Tech giant Google is known around the world for its robust services such as Chrome, Gmail, Google Keep, YouTube, Google Drive, Google Meet, Google Contacts, Google Maps, Google Classroom, Google Sheets and so on. We cannot imagine today's tech era without these services and these are considered the backbone of the present age.
Moreover, we should not forget that Gmail is one of the most widely used services in the world which is available free of cost for everyone. To enhance the user experience, Google is adding new features to its Gmail service timely.
However, newly added features are generally not available to everyone or publicly as they are thoroughly tested before making them public. There are already many Gmail features like Smart Compose, Smart Reply and the like which are experimental features.
If you're one of those guys who would like to use new features before others then you are going to learn the hidden settings of Gmail to get new features of Gmail.
Now, by enabling the Experimental Access feature in Gmail, you can enjoy newly added Gmail features before other people.
So these are dead-simple steps to gain access to the new Gmail feature prior to your buddies.
1. First of all, open Gmail on your desktop.
2. Now click on the cog wheel icon ⚙️ in the top right-hand corner.
3. Then click on "See all settings" to open it.
4. After this, under the General Tab, scroll down to the Experimental Access option.
5. Next, check the box to enable the Experimental Access feature.
6. Finally, click Save Changes at the bottom of the page.
Voila! You're done!
You can now gain early access to features that are still under development.
So this was all about how to get new Gmail features before others still, if you have any doubts you can drop your queries below in the comment box.
If you enjoyed this post, I'd be very grateful if you'd help to spread it to your friends and family members or share it on Facebook, Twitter, WhatsApp, LinkedIn and Instagram.
To watch our tech videos, please subscribe to our YouTube Channel: Yashraj Solutions
Also Read:
How To Take Full Web Page Screenshot In Google Chrome
How to Skip YouTube Ads Automatically