How to Enable QR Code Generator in Microsoft Edge Chromium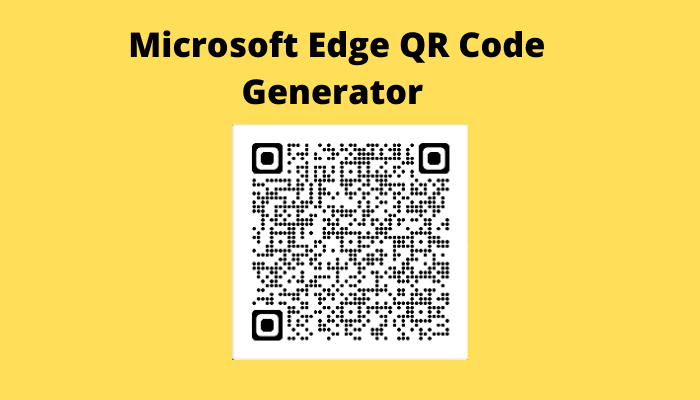 According to a recent report, Microsoft's Chromium-based Edge browser has overtaken Firefox and become the world's second-biggest trusted desktop browser. Microsoft Edge is built on the Chromium project and it is competing with Google Chrome as well.
There are tons of inbuilt features in Microsoft Edge which are not available in Google Chrome and Firefox browsers right now.
Related Post: Microsoft Edge Is Getting Vertical Tabs And A New History View Button
The new Microsoft Edge is stuffed with a bunch of handy features namely Fullscreen Dropdown Shy UI Mode, Collections, Extensions Sync, Smart Copy, Surfing Game, Tracking Prevention, Enhanced Privacy Settings, Password Monitor, InPrivate Mode, Dolby Audio, Real Aloud and the like.
Apart from this, Microsoft is working on the QR code generator for Edge that would allow users to share websites by scanning a QR code with inbuilt mobile camera QR scanner or a third-party QR app.
Here's how to enable the QR generator for Edge:
1. Type "edge://flags" in the address bar of the Edge and press enter.

2. Next type "QR" in the search flags box of the experimental page.
3. This flag (#sharing-qr-code-generator) would be disabled by default, you have to enable it manually and restart your Edge browser to take effect the changes.
4. Finally, if your flag is enabled, Edge would display QR icon in the address bar and you can generate a QR code by clicking on it for any websites.

This is all about how to enable QR code generator in Microsoft Edge Chromium still you have any doubts you can drop your queries below in the comment box.
If you enjoyed this post, I'd be very grateful if you'd help to spread it to your friends and family members or share it on Facebook, Twitter, WhatsApp, LinkedIn and Instagram.
To watch our tech videos, please subscribe to our YouTube Channel: Yashraj Solutions
Also Read:
how to test internet speed with google search results
Microsoft has launched its own data recovery tool to retrieve deleted data