Google Chrome brings a new smart, customizable toolbar shortcut
Google Chrome is bringing a new intelligent, customizable toolbar shortcut for its Android users on a global scale. Without a doubt the layout and design of Google Chrome is straightforward and appealing. The Chrome browser has not undergone any significant changes over the years on its desktop as well as the Android platform.
However, after getting tremendous competition and challenges from Microsoft Edge, Google Chrome keeps on releasing small tweaks and tools every once in a while to make the user experience better and smoother.
According to the latest news, Google has added a small yet highly useful customizable toolbar shortcut on Chrome for Android, version 101. The toolbar shortcut is located between the Omnibox (address bar) and the tab button/counter. You will get one of the action buttons out of the New tab (plus sign), Share, or Voice search (microphone). The shortcut button allows you to carry out certain actions including opening a new tab, sharing the current webpage to social media platforms, and conducting a voice command search.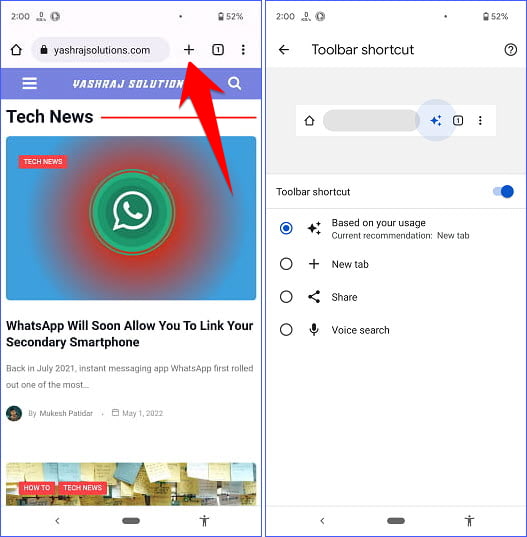 By default the button you see is "Based on your usage". This feature is referred to as the current recommendation. What if you're not happy with the automatic button selection of the current recommendation feature, worry not, it lets you select the button you want by long-pressing the current button or heading to the Chrome settings. Additionally, you can also entirely disable Google Chrome's the toolbar option.
Although this feature is small, but it is powerful. It saves a great deal of time and enhances your productivity.
So this was all about Google Chrome's new smart, customizable toolbar shortcut, still if you have any doubts you can drop your queries below in the comment box.
If you enjoyed this post, I'd be very grateful if you'd help to spread it to your friends and family members or share it on Facebook, Twitter, WhatsApp, LinkedIn and Instagram.
To watch our tech videos, please subscribe to our YouTube Channel: Yashraj Solutions
Also Read:
Desktop Chrome Is Getting an Inbuilt Screenshots Tool and Editor
How to enable Chrome's Hidden Windows 11 Menu Style