Here are the Official Windows 11 System Requirements and Compatibility Checker Tool
This article will help you to know what are the minimum hardware requirements for Windows 11 operating system. It has been rumoured for a long time that Microsoft is working on a brand new operating system to maximise your productivity with a new design.
As of now, Windows 11 is considered the next successor to Windows 10 developed by the tech giant Microsoft. Microsoft announced a new and cool Windows Operating System on June 24, 2021. The new Windows operating system is expected to be released in late 2021. It will be available through Windows updates as a free upgrade to compatible Windows 10 devices, globally in a systematic way.
The design of the next-generation Windows 11 resembles that of macOS and Chrome OS, with the Start menu placed at the dead centre of the taskbar. It is a significant part of the visual changes with the new user interface.
Other than that, Windows 11 will be able to run Android apps directly and natively on your system. The Android app can be downloaded through the Amazon Appstore within the new Microsoft store.
If you're one of those who is planning to upgrade your current operating system to a new one, we recommend checking whether your system meets specific hardware and software requirements to run Windows 11.
What are the minimum requirements to run Windows 11?
Here is the full list of requirements for upgrading your system to Windows 11.
| | |
| --- | --- |
| Hardware | Requirements |
| Processor (CPU) | 1 gigahertz (GHz) or faster with 2 or more cores on a compatible 64-bit processor or System on a Chip (SoC). |
| RAM | 4 gigabytes (GB) or more. |
| Storage | 64 GB or larger storage device. |
| System firmware | UEFI, Secure Boot capable. |
| TPM | Trusted Platform Module (TPM) version 2.0. |
| Graphics card | Compatible with DirectX 12 or later with WDDM 2.0 driver. |
| Display | High definition (720p) display that is greater than 9" diagonally, 8 bits per color channel. |
How do you check if your PC can run Windows 11?
In case you are unable to determine the above listed requirements to run Windows 11 on your system for this, Microsoft has provided a useful and handy tool called the PC Health Check app to see whether your current system meets the requirements to run Windows 11 or not.
Below are the full steps to use the PC Health Check tool to check if your system is eligible for Windows 11.
1. Download the PC Health Check from here .
2. Click on the setup file and accept the terms by checking the given box. Then click the Install button and it will be installed on your system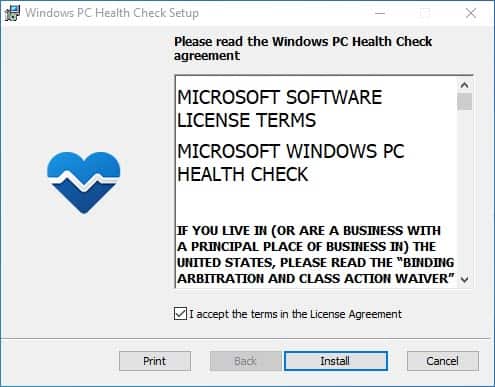 3. After doing so, click the Finish button to open the Windows PC Health Check application.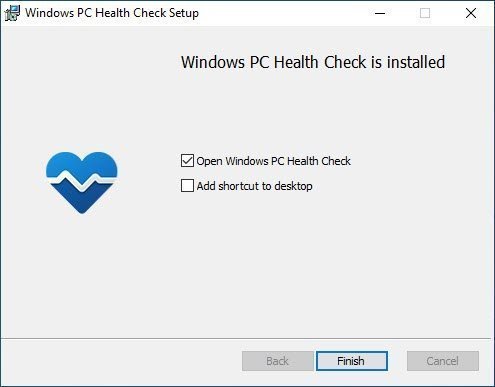 4. Finally, click on the Check now button to see if your PC is compatible with Windows 11 or not.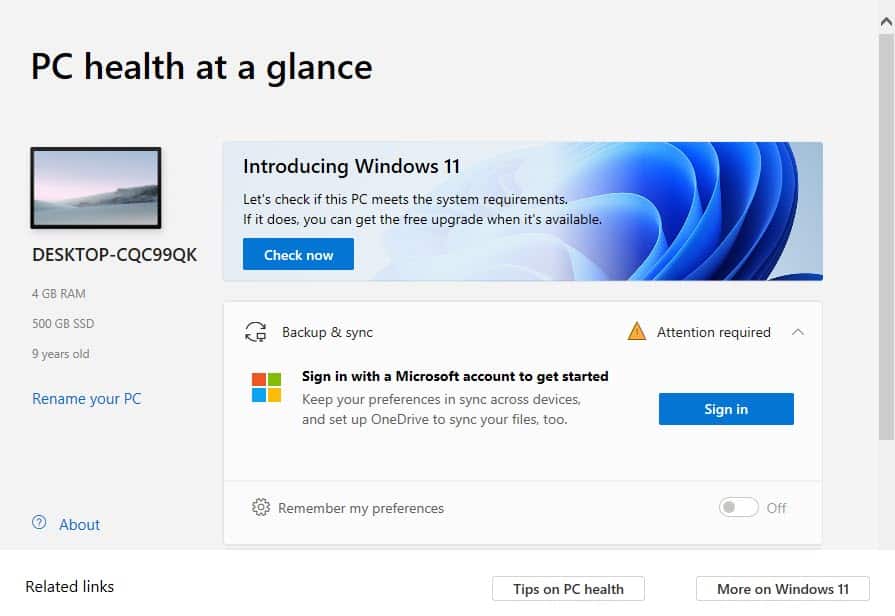 5. The PC Health Check application will perform the required checks and show you whether or not your PC is capable of running Windows 11.
So it was all about the requirements to upgrade to Windows 11, if you still have questions about it, please drop your queries in the comment box.
If you enjoyed this article, I would be grateful if you would help share it with friends and family members or share it on Facebook, Twitter, WhatsApp.
To watch our tech videos, please subscribe to our YouTube Channel: Yashraj Solutions
Also Read:
How to Enable Fast Startup in Windows 10 to Speed Up Boot Time
How to Enable and Customize Text Cursor Indicator in Windows 10